Meet Results – congratulations to swimmers who achieved Country Qualifying times during the time trials held prior to the meet: Nicolette Wight (SGB) 200m IM, Eliza Watts (TRL) 100m back, Logan Archibald (TRL) 100m freestyle, Ayla Dwyer (TRL) 100m freestyle, Sophie Allen (SLE) 100m freestyle.
Please note: these results have been uploaded to the National database in time for Country entries.
The Moe Meet included a Skins event sponsored by Gippsland Swimming with cash prizes for 1st ($50), 2nd ($30) and 3rd ($20) places in 12 & under an d 13 & Over 50m freestyle.  Skins events demand not only speed, but stamina to be successful.
Congratulations to the following winners:
| | | | | |
| --- | --- | --- | --- | --- |
| | 12 & Under Girls | 12 & Under Boys | 13 & Over Boys | 13& Over Girls |
| 1st | Molly Cargill | Ashley Nicholes | Sophie Waller | Tom Dowler |
| 2nd | Abby Warner | Ben Waller | Elayna Pistrin | Jake Mitreski |
| 3rd | Zoe Dowler | Ben Hall | Rachael Sbaglia | Kieran Georgeson |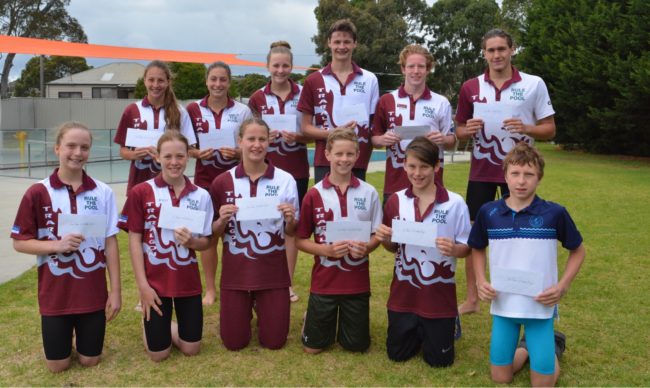 From the Moe SC:
This meet at Moe was the Don Coupe Memorial meet in honour of a wonderful gentleman that we lost late last year. 
We held special event happening mid-way through the meet, with 12 members from the Gippsland Masters Swimming Club racing in an exhibition relay in honour of Don who was a life member of both of our clubs. For those who don't know Don, he was a great advocate and supporter of swimming in Gippsland, a competitor across a number of levels including the World Masters and an official. Don's wife Margaret and his family were in attendance on Saturday and enjoyed sharing the day with friends and Masters and GSI members.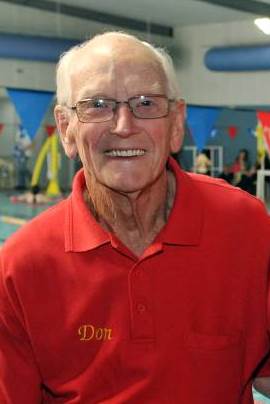 Don Coupe