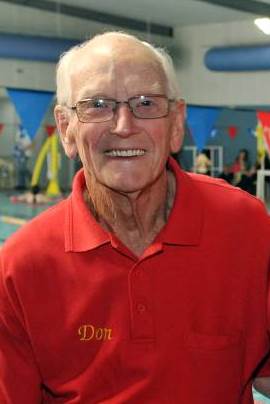 The Gippsland Swimming community extends its deepest sympathy to the Coupe family on the passing of their beloved father and husband, Don Coupe.
Don was a Life Member of both the former Yallourn Swimming Club, and of the Moe Amateur Swimming Club. Don was also an active member and a Life Member of the Gippsland Flippers Masters Swimming Club, and attended many masters competitions around Australia and the world.
He was a familiar face among the Gippsland officials team, holding the position of district treasurer from 1978-1984, Chief Judge from 1983-1984, and Starter from 1989-1992.
Don was farewelled with an intimate funeral today, in which family members and swimming friends shared stories of Don's life and described his best qualities. Each of his family members attended the ceremony wearing one of Don's swimming medals.
An inspiring person, genuine friend and a lovely fellow of whom we have great memories. Don will be greatly missed by all.